Choosing the perfect Indiana campground to park your rig at can be time-consuming and stressful. Which RV site type should you choose? Does location matter? What are the benefits of choosing an RV resort in Fremont, Indiana compared to elsewhere? We're here to help you answer these questions and provide you with 5 reasons why Jellystone Park™ Barton Lake is the best choice for RV camping near Fort Wayne, Indiana!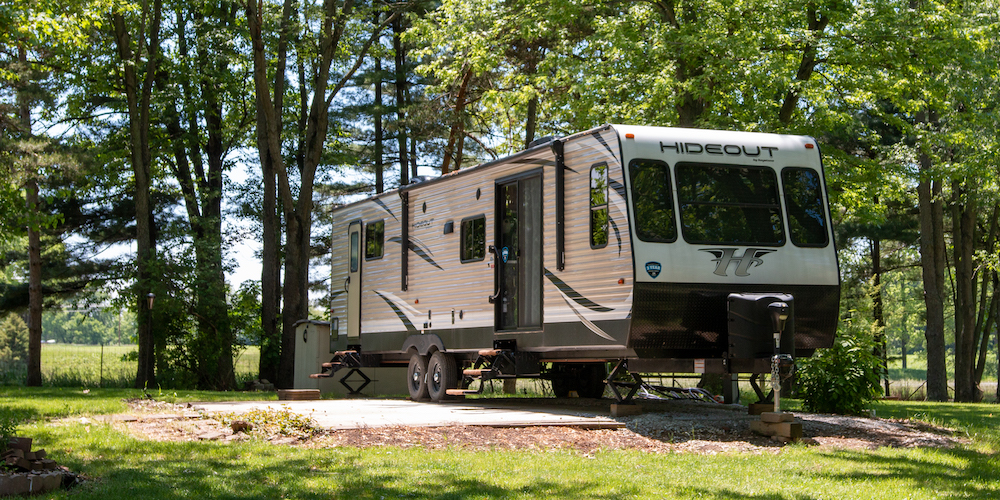 10+ RV SITE TYPES TO CHOOSE FROM
There's no need to worry about not having enough options to choose from, as we have 10+ different RV site types that will cater to your needs! Whether you're looking for gravel or concrete pads, RV sites with full hook-ups or only the necessities, or even sites with gorgeous lakefront access and views, our Indiana RV resort has a site for everyone.
Red Carpet Back-In RV Sites:
Our Red Carpet Back-In RV Sites are the cream of the crop when it comes to the location of these sites and their luxury RV amenities. These sites are located near all of the park attractions such as the Water Zone, jumping pillows, sports courts and more! These sites are situated on a concrete pad and include 30/50 amp electricity, water-hookup, charcoal grill, fire ring, and picnic table. Please note that these sites are back-in only.
Lakefront & Lakeview RV Sites:
Enjoy living the "lake life" when you book one of our Lakefront or Lakeview RV Sites! Our Lakefront Standard and Lakefront Standard Buddy sites give you your own private water frontage with access to recreational activities, such as fishing and boating. Enjoy 30 amp electric and water hookups, a picnic table, and fire ring. Our Lakeview Premium Back-In sites provide full-hookup camping with beautiful views of the lake. If you're looking to book a campsite on the lake, our Indiana campground has a site for you!
Premium RV Sites:
Choose from either our Preferred Premium or Premium RV sites and choose either back-in or pull-thru options. Plus, these sites have full-hookup options including water, electricity, and sewer hookups in addition to a fire ring and picnic table. The main difference in these sites is the location. Choose Preferred Premium to be more centrally located in the park or choose Premium if you wish to be more secluded around the outskirts of the park.
Standard RV Sites:
Book one of our Standard Back-In, Standard Pull-Thru, or Standard Buddy RV Sites and enjoy water and electric hook-ups along with a fire ring and picnic table. These sites can accommodate everything from a small pop-up or camper van to a large fifth-wheel or motorhome. Plus, choose a buddy site to share a site with your friends or family and enjoy a communal area to gather!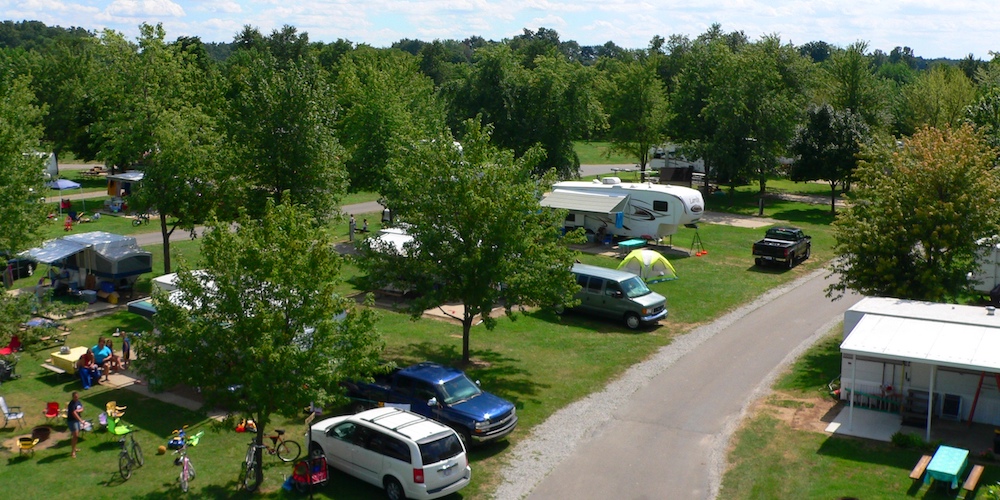 SPACIOUS SITES = ROOM TO ROAM
Conveniently located between 3 major metro cities, yet far enough away to avoid all of the city noises, our Indiana campground with pool is sure to be a family favorite. Experience the quiet surroundings of Fremont, Indiana and enjoy the serene nature of Barton Lake. Plus, our 540 RV sites are located all throughout our Camp-Resort, so you can find the perfect location for you and your family! Check out our Camp-Resort map here.
Near The Attractions
If you're looking to book an RV Site that's near the water slides, Water Zone, pools, jumping pillow, mini golf course, and all of our other attractions, we recommend booking a Red Carpet Back-In RV Site, Preferred Premium Back-In RV Site, or Premium Back-In RV Site. This way, you can make the most of your stay by taking advantage of all the attractions that are near your site.
Near The Lake
Take in the beauty of Barton Lake when camping at one of our Lakefront Standard RV Sites or Lakeview Premium Back-In RV Sites. Our Lakefront Standard RV sites are located just steps from the waterfront and camp beach - a perfect location to partake in fishing, boating, or playing in the water. Choose a Lakeview Premium site if you want a serene view of the lake but would rather not be right near the excitement of the lake.
Secluded Along the Woods
Enjoy Indiana RV Camping among nature and more removed from the activity when you book a Premium Pull-Thru RV Site or Standard Pull-Thru RV Site. By choosing one of these RV sites, you'll be able to enjoy a secluded area along the outskirts of the campground for you and your family to make memories around the campfire.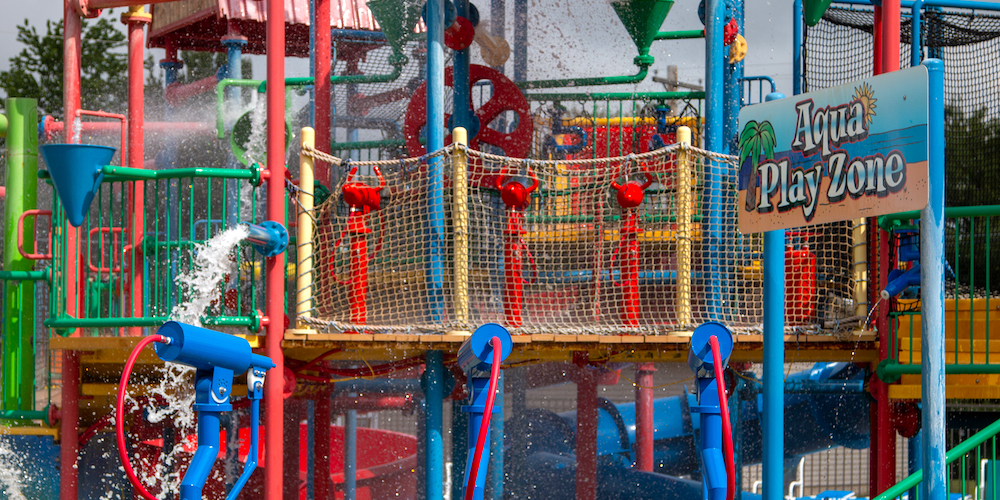 12+ ATTRACTIONS INCLUDED WHEN RV CAMPING
We have so many attractions, you may not have time to do them all during your stay! Plus, over 12 of our attractions are included when RV camping! These include our main attractions like the Water Zone, swimming pools, mini golf course, jumping pillows, playground, sports courts, select arts & crafts, and so much more. Make sure to view all of our attractions at our Indiana camping resort and start planning your itinerary today!
Although the majority of our attractions are included when RV camping, we do offer some attractions at an additional cost. These include Lazer Tag, Gem Mining, Pedal Carts, and select arts & crafts. Looking for the best way to take advantage of all the fun that we have to offer? Check out our Fun Passes! Available during peak season (May 27 – August 21), our Fun Pass gives you instant access to all sorts of added fun like our paid activities, tasty treats, bear visits, & more!
Whether you're looking to add one or all of these attractions to your stay, or just stick with the included attractions, your RV camping experience at Jellystone Park™ Barton Lake is sure to be one you'll remember.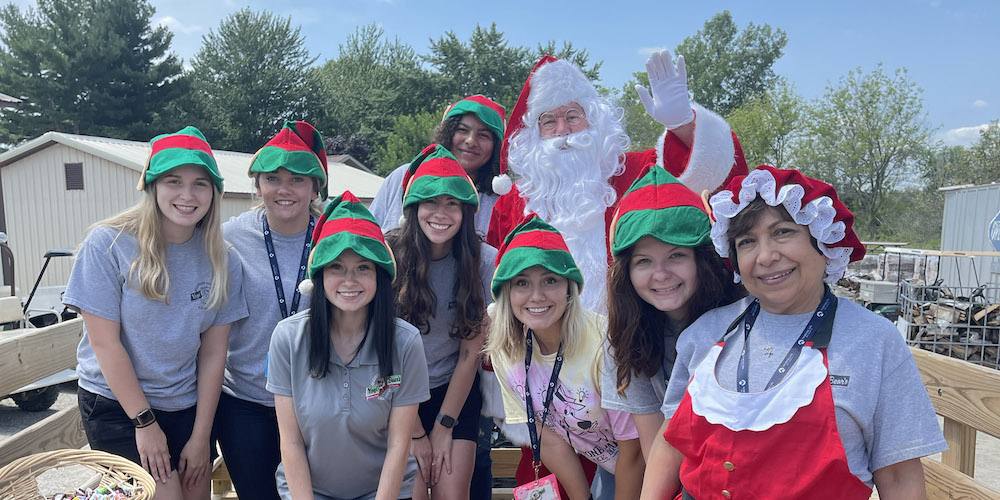 THEMED EVENTS ALL SEASON LONG
Looking for another reason to park your rig at our Camp-Resort? We have themed events and activities happening all season long! From April 22 - May 26 & August 22 - November 6, you can enjoy themed events during the weekends. During our peak season, May 27 - August 21, themed events and activities are planned all week long, so the fun will never end during your stay! From Pirates & Mermaids Weeks to Wildlife Weekends, you can expect themed activities from dawn to dusk.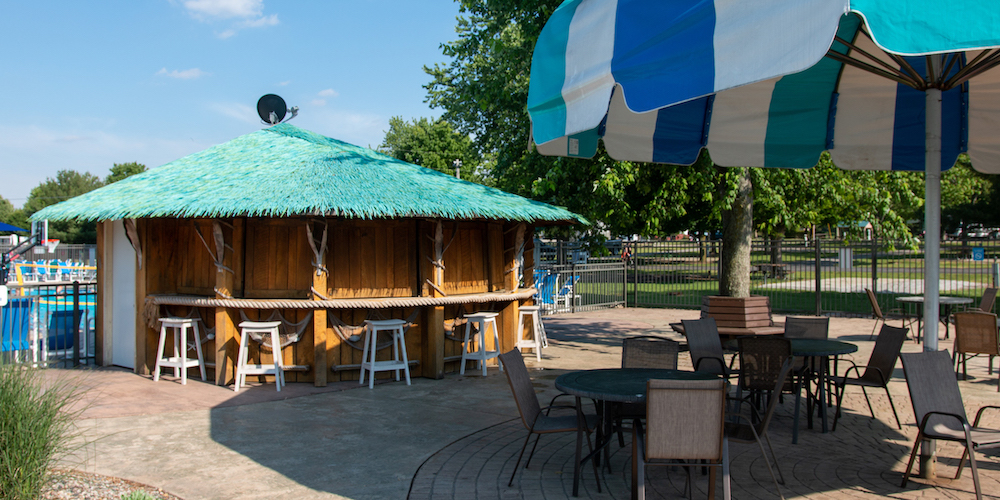 ON-SITE FACILITIES
We want to make your stay easier and more fun, so our Camp-Resort provides top-rated facilities that are available for all of our campers! If you need to grab some ice, charcoal, firewood, or forgot to bring supplies, our Ranger Station is here to provide anything you may need. The Boo Boo™ Cafe offers a variety of food options like hamburgers, pizzas, and icees so you don't need to meal prep every night. We also have laundry services, comfort stations, trash pick-up and more on-site facilities. No matter the need, we have a service to make your Indiana RV camping experience stress-free!
We hope these reasons provide you with a better understanding on why Jellystone Park™ Barton Lake has the best RV camping in Indiana. With so many different RV site type options, you're sure to find a site perfect for your taste. Plus, our Indiana RV resort is located right between 3 major cities giving you easy access to our full hookup campground. Lastly, our facilities, included attractions, and themed events make our Camp-Resort a stress-free, yet fun-filled option for your family RV camping trip. Make sure to book your RV site before your favorite location is gone - we can't wait to show you all that our Camp-Resort has to offer!